Interactive CNC Vertical Bed Mills.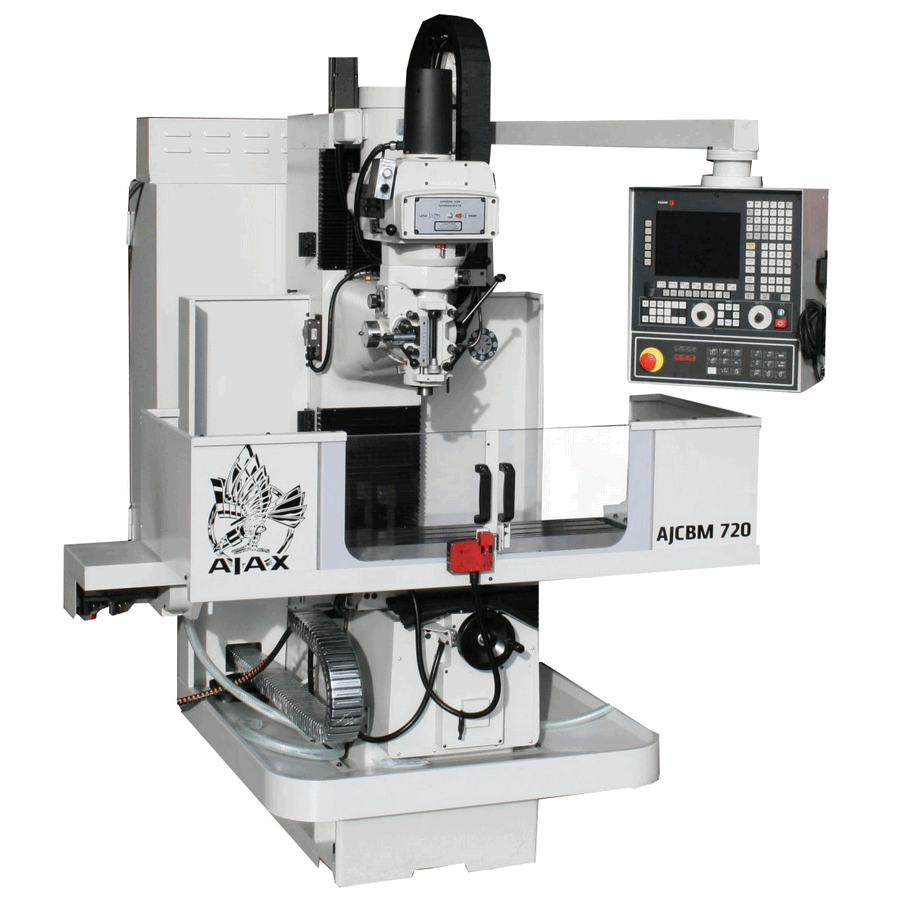 The range of Ajax CNC bed milling machines provide a good bridge between the small turret mill and the larger bed mills, giving excellent capacity with value for money. We have been selling this type of machine since the berth of CNC in the 1980's so quite a long time. The CNC Bed mill is easier & quicker to set up than a machining centre with its open design, so making one offs is quick, easy and very accurate.
Main parts of the machine are of cast iron construction to give stable rigidity. Slideways are hardened and ground and coated with Turcite-B and when connected to high precision ballscrews, give excellent results.
CE & CA Marked.
Give one of our engineers a call to discuss your requirements.
For more information about control systems, please click here.
High Precision Calibrated with Renishaw laser.

All are machines are high precision calibrated using a Renishaw laser to give us super high precision. We then check this and all the alignments with the Renishaw Ballbar system which checks the machine while it is performing a circular move in 2 axis.
Specifications.
Standard Features.
Fagor 8058 elite with simple conversational programming
Heidenhain TNC 320 conversational programming.
Siemens 828D with shopmill conversational programming.
Fanuc 0i MF Plus Control.
AC Servo motors.
Automatic lubrication.
Halogen work light.
Slide-way covers.
Rigid construction.
Good ergonomic design.
Interlocked Table guards.
Power drawbar.
CE / CA mark.
Optional accessories.
Full enclosed guards.
Tooling packages.
Clamp Kits.
Machine vices.
Accuracy.
Accuracy is very important here at Ajax we are one of very few companies in the UK who have a Renishaw XL80 laser measurement machine. It can measure down to a Nano of movement which is a 1000′ th of a Micron which is 1000′ th of a Millimeter. So we then use this data to calibrate the machine down to very high accuracy. But we can do this on your site if required and re do this on an annual basis to keep your machine accurate. Our normal results get machines over the entire working envelope down to less than +/- 0.002 most of our competitors are way over this and cannot test it or prove it.
Applications.
The CNC Bed Milling Machines can be used for many applications in tool-rooms, machine shops, fabrication shops and production shops. For milling, drilling and boring with much easier set up than on a VMC the AJCBM range hit the mark for all types of precision work.
Delivery & Installation.
Our delivery companies can deliver your machine and offload it with a variety of ways. Then either drive it in with a versa lift or skate it in to position. Then once its there our fully trained engineers will level and commission it. Once this is done we will train you in its operation.