Ajax Student Training Lathes.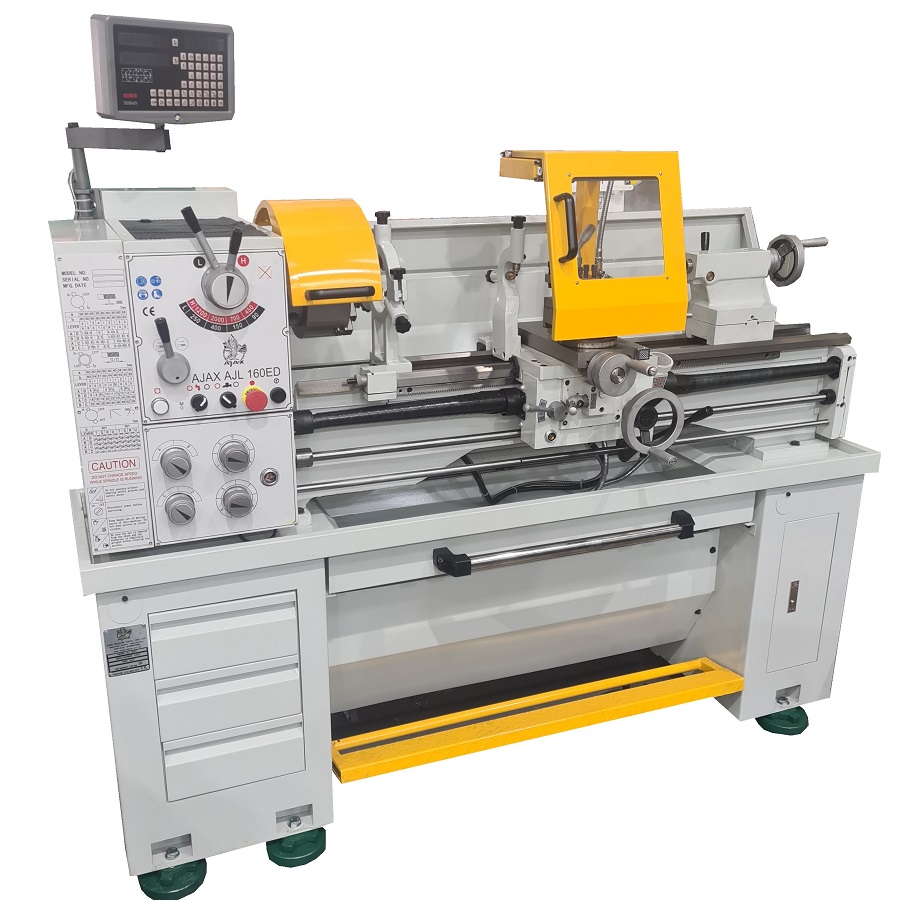 These quality built student training lathes are easy to use, quick & practical & now with variable speed for easier control. The modern day answer to manual turning with a modern proven design makes for a perfect starter lathe for any garage or workshop. Give us a call today we have machines in stock ready to deliver. All machines have a 2 Axis DRO, 3 & 4 Jaw Chucks, steadies & coolant as standard. The design includes a pull out swarf tray and draws to keep your tools & books in. New guarding makes these machines easy to use and above all safe. With a wide range of feeds & speeds to compliment the screw cutting range.
Ajax has been working with colleges and schools all over the world for many years and our new training lathe is the ideal package. CE & CA Marked.
Have you seen our Mini CNC Lathes? Click here to find out more information about them.
Specifications.
Main features include.
Induction hardened and ground one piece beds.
Inverter driven spindle for ease of speed change.
4 way toolpost.
3 and 4 jaw chucks.
Face plate.
2 Axis DRO.
Fixed and travelling steadies.
Easily selected spindle speeds in geometric progression.
Headstock gears are case hardened and ground splined shafts which turn on anti-friction bearings.
The universal gearbox is totally enclosed and provides a range of metric or imperial threads.
Saddle gearbox enables selection of feed to x and y axis, or to screw cutting and is available in left or right hand form.
CE marked.
Options.
Quick-change tool post.
Revolving centres.
240V 1ph or 415V 3ph.
Student Training Lathes Quality.
So you can have peace of mind all our machines are 100% inspected and checked for quality and accuracy.