AJAX Geared Head Pedestal Drilling Machines.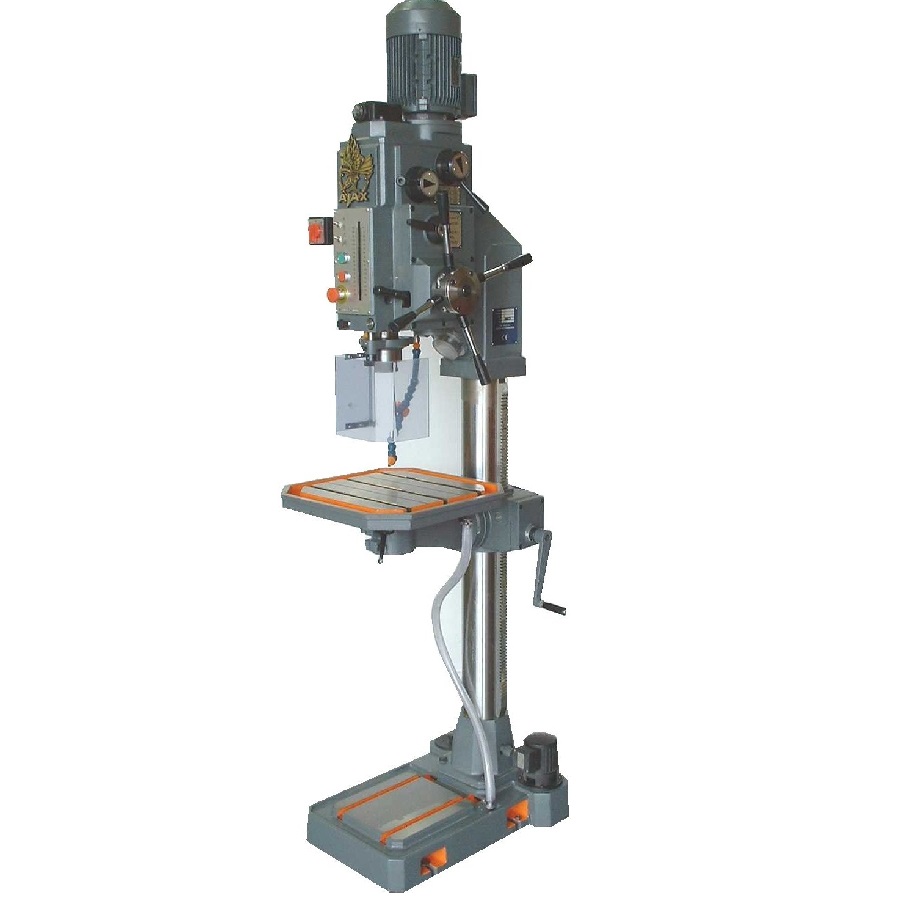 The Ajax range of pedestal drilling machines have been around for a long time. Designed and built to work hard all day every day for the next 25 years. Without any repairs, so give us a call to choose your next reliable drilling machine. Email us sales@ajax-mach.co.uk
Specification.
Main features include.
Automatic drill ejector.
Adjustable depth gauge an automatic mechanical trip on feed.
Push button control for starting and reversing.
Built in lighting.
Graduated tilting table through 180 degrees.
Hand-wheel for fine feed adjustment.
Manufactured in Europe with a CE & CA mark as standard.
Pedestal Drilling Machine Gallery.
Design and Build.
These machines are built in a time honored tradition with manual assembly buy highly trained engineers. The distance from the spindle to the table and base allows large components to be drilled easily.
The machines, with the exception of the AJ25 and AJ30, are fitted as standard with an automatic feed mechanism which is graduated and can be set to the best feed rate. (Feed optional of AJ25 & AJ30).
Gear Box.
The drive systems in our machines are gears that are hardened, ground and shaved. Manufactured from the highest quality nickel chrome steel. Shafts are splined, ground and made to tight tolerances to ensure perfect fit. This gives smooth operation and running. All machines have an inbuilt oil pump lubricating the gearbox.
Our machines are fitted with automatic drill ejectors and coolant equipment as standard. (coolant optional on AJ25 and AJ30).
To ease operation, all machines incorporate a rack and pinion drive to the column to help vertical positioning of the table.
So this is only part of our range which includes, bench and pedestal drills, pillar drills, multi heads, multi spindle and auto cycle tapping machines.
Ajax makes machines that make round holes.