Ajax Superturn HD Flat Bed CNC Lathes.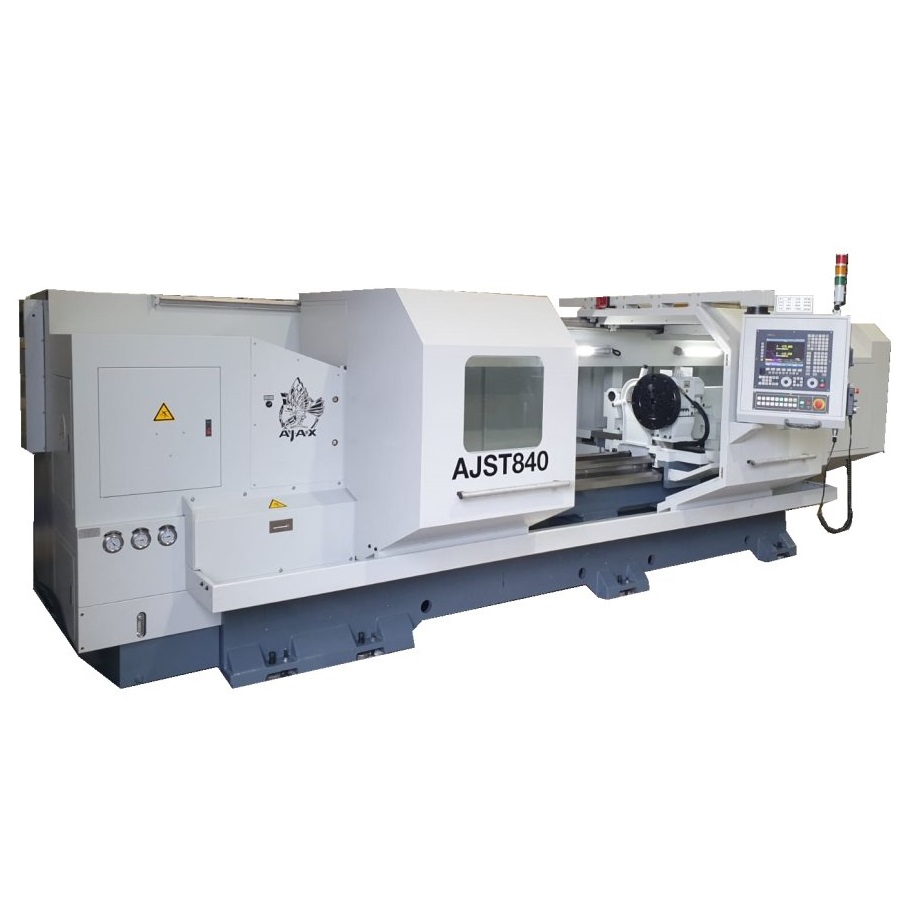 The AJAX Superturn Heavy Duty CNC Lathes range is now now heavier and stronger with the new Fanuc 0i TF Plus CNC control. These heavy duty CNC lathes can be used as a manual lathe by using the electronic hand-wheels. The control is used as a simple DRO measuring system. With the Manual Guide option on the Fanuc all the process of programming is conversational making programming easy. This same ease can be found with the Fagor 8058 & Siemens 828D Shopturn control systems. CE & CA Marked as standard.
Give us a call or email us today.
Specification.
Turning has become Superturning.
Centre lathe turning has progressed at an impressive rate since the conception of electronics, driving axis and spindles, and computer driven programming.
The AJAX Superturn HD range of machines, combines all the virtues of conventional turning, electronic cycle turning and full CNC turning all in ONE machine.
These AJAX Superturn HD machines can be used as a manual lathe by using the electronic hand-wheels, the control is used as a simple DRO measuring system. For the 1 offs and small batch production the Superturn can be programmed, using the flexible electronic turning cycles, its quick, its convenient and you do not have to be CNC trained to use the electronic cycles.
You can produce tapers, radii, grooving, multi point profiles and screw cutting by answering simple questions direct from the Fanuc screen. These electronic cycles can then be linked together to give a complete electronic program.
For complicated shapes and batch production, full ISO programming on all the control options.
The AJAX Superturn HD machines include fully enclosed guarding, meeting CE regulations, automatic 4 way indexing toolpost, automatic speed range change with the control and monitor fitted on a sliding pendant.
Machine programs can be up and downloaded through the USB Port or saved directly to a USB stick.
Range.
The range starts at 330 mm centre height to 710 mm centre height, with bed lengths varying from 1,000 mm to 6,000 mm, spindle speeds vary for sizes of machines but all have CSS fitted as standard.
Standard Features.
Fanuc, Siemens or Fagor Controls.
Interlocked guarding & chip collection system.
Coolant equipment.
Automatic lubrication of bed ways.
Electronic hand-wheels or X & Z Axes.
Feed override control.
Digital Fanuc AC spindle Motor.
Digital Fanuc AC Feed drives & motors.
High power lighting.
Fixed centres & reducing bush.
4 station turret.
Instruction Manual.
Hardened bed to 400-450 HB.
Options.
3 & 4 Jaw chucks.
8 Station turrets.
Fixed & travelling steadies.
Live centres.
Face plates.
Power chuck & tail stock.
Live tooling & C Axis.
Accuracy.
Accuracy is very important here at Ajax we are one of very few companies in the UK who have a Renishaw XL80 laser measurement machine. It can measure down to a Nano of movement which is a 1,000 'th of a Micron which is 1,000 'th of a Millimeter. We then use this data to calibrate the machine down to very high accuracy. This can be done on your site if required and re do this on an annual basis to keep your machine accurate. Normal results get machines over the entire working envelope down to less than +/- 0.002.
Most of our competitors are way over this and cannot test it or prove it.

Ajax turning the world around.
Delivery & Installation.
Our delivery companies can deliver your machine and offload it with a variety of ways. Then either drive it in with a versa lift or skate it in to position. Then once its there our fully trained engineers will level and commission it. Once this is done we will train you in its operation.