AJHBM Horizontal Boring and Milling Machines.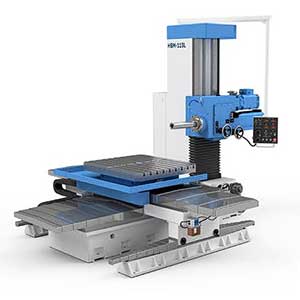 The Ajax range of Horizontal Boring Milling Machines bring back the tradition of using a one machine for many different aspects of any job. With milling , drilling, boring big and small. Give one of our engineers a call to discuss your needs.
Features.
Servo driven axis, power drawbar, power feed & rapids to all axis, DRO options, pendant control, telescopic slideway covers, power clamping, automatic lubrication, variable speed & heavy duty construction. CE & CA Marked.
Specifications.
Gallery.
Suitable for all types of valves blocks and any multi sided machining job the horizontal borer makes in easier with less setting up and more machining.
Because this type of machine is very important like its predecessor features are kept but not lost.
Like these machines we also offer a CNC Range of CNC Boring & Milling Machines for more complicated parts and production. With and without the quill option but available with the indexing table to allow 4 sided milling applications.
We can offer a wide range of options with digital read outs (DRO) from Heidenhain, Acu-Rite, Newall & Fagor. Tooling packages to suit your application with clamp kits, boring heads, milling cutters, drills and CNC versions to speed up accuracy and repeatability. So give us a call or click on get a price and we will get straight back to you.
These machines are used in many ways including boring, line boring, multifaceted milling, drilling and general milling. With the option of the facing head operations like chamfering large diameters can be achieved.
Ajax can help you with your next project as for our help and you will get it.