AJHB Horizontal Borers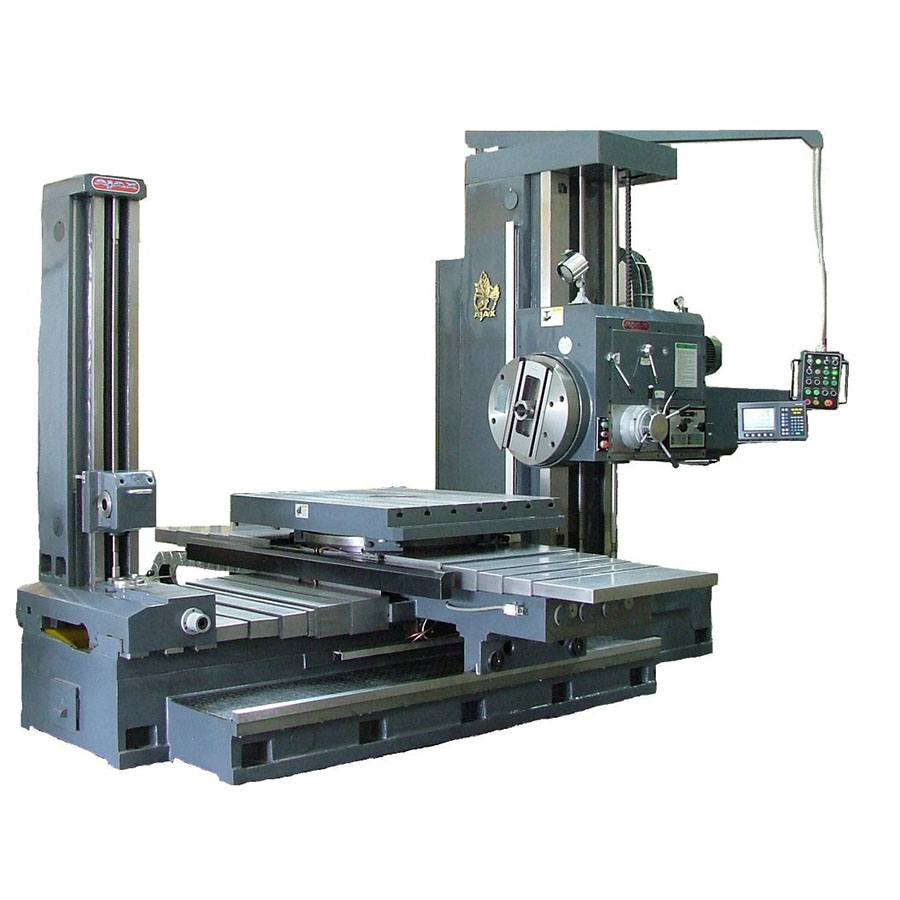 The Ajax range of Horizontal Borers bring back the tradition of using a horizontal borer to machine many different aspects of any job with milling , drilling, boring big & small, facing.
Features include powered rotary table, power drawbar, power feed & rapids to all axis, DRO options, optional tail stock, pendant control, telescopic slideway covers, power clamping, automatic lube, pre-select speed changes & heavy duty construction.
Suitable for all types of valves blocks and any multi sided machining job the horizontal borer makes in easier with less setting up and more machining.
Options Include : Tailstock for line boring, boring bars, Newall DRO Systems.
The machine can be used for milling, drilling & boring. A job can be set up once and bored and milled on all 4 sides using the powered rotary table giving quicker operation, more accuracy and ease of use. When fitted with the tail stock can be used for line boring like the big end bearings in an engine keeping them all in line.
Drilling applications can be done easily using the quill before boring. All axis have hydraulic clamps to give solid stable machining on all redundant axis, the active axis is automatically unclamped when it is selected.
The head has a counterbalance weight to give lightweight operation of the vertical travel when unclamped.
The gearboxes are all pre select, so you can dial in your next speed and feed and the press a button on the pendant to operate speed / feed change. All gears are hardened & ground to give quieter smoother operation and give better longevity.
All slides & screws on the machine are automatically lubricated to give stable machining and longevity to the life of the machine.
All axis are driven from electromagnetic clutches selected from the control panel.
All gearboxes & clutches are running in oil baths and fully lubricated. The machine have multi leveling & bolting down points to give even more stability and to keep accuracy. All siding surfaces are hardened & ground with turcite anti friction material running against them.
All horizontal sliding surfaces are protected by steel guards to protect from swarf damage. All axis can be hand operated to fine position. Digital readout can be fitted to all 4 axis to aid precision.